Here we are! Part 2 of 10 of a series on my 100 favorite movies of all time! This has been a lot of time and research but I'm so excited to finally start publishing them.
Here's a couple things to keep in mind.
1. This is a FAVORITES list, not a BEST list. I'm hardly qualified to make a best of list. So there will be movies on the list that are admittedly sloppy, but I love them. As well, there are masterpieces out there that I have seen and just really didn't like. So you wont see Citizen Cain or Raging Bull here.
2. I am 24 years old who has obviously not seen all the movies, and, like everyone else, am inclined to like movies more from my generation. So while there are a few older movies on here, I'm attempting to abandon pretension and go with what resonates with me the most.
So, having said that here are my favorite movies, numbers 90-81!
*
*
*
*
*
*
*
90.
All The Presidents Me
n
(1976)
(PG)
Director:
Alan J. Pakula
Starring
:
Robert Redford, Dustin Hoffman, Hal Holbrook and Jason Robards
Winner of 4 Oscars; including Best Supporting Actor: Jason Robards.
Featuring one of the best scripts in film history, All The Presidents Men shows that you don't need serial killers, guns or ghosts to have an edge of your seat thriller. Dustin Hoffman and Robert Redford have perfect chemistry and seem to be having a blast here. The story of the reporters who uncovered the Watergate scandal is a landmark in cinematic history.
*
*
*
*
*
*
*
89.
Bringing Up Baby
(1938)
(G)
Director:
Howard Hawkes
Starring:
Carey Grant, Katherine Hepburn
There is no arguing, this is one of the greatest romantic comedies of all time. Carey Grant seeking to get a million dollar donation to his museum from a flighty and hilarious Katherine Hepburn is a delight. This is a light hearted, sweet and fun movie that should please any film buff.
*
*
*
*
*
*
*
88.
It Follows
(
2014)
(R)
Director:
David Robert Mitchell
Starring
:
Maika Munroe, Keir Gilchrest and Olivia Yuccardi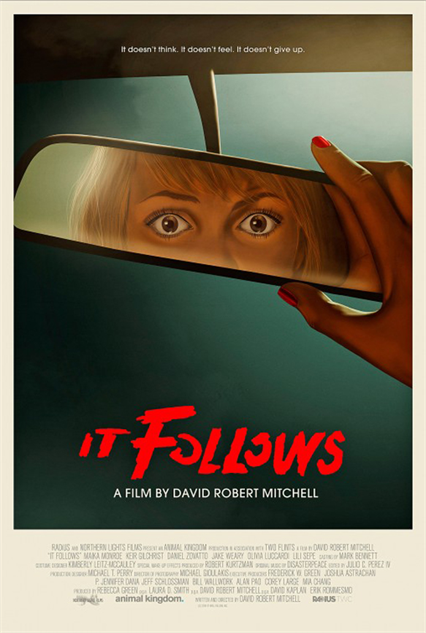 I am an absolute sucker for horror movies, and I have a theory that the 2010's will will be looked at as the horror movie renaissance. A phenomenal piece of evidence to support this theory is this unnerving thriller. There are few jump scares, very little gore, and no masked killers, yet it is one of the more horrifying movies around. This movie relies 100% on the brilliance of the director who has created a nightmare of a film that chills you to the bone with it's atmosphere and story. Horror movie fans owe it to themselves to watch this movie.
*
*
*
*
*
*
*
87.
The Man Who Shot Liberty Valanc
e (1962)
Not Rated
Director:
John Ford
Starring:
James Stewart, John Wayne and Lee Marvin
Nominated for 1 Oscar
My father raised me on John Wayne.and yeah, a lot of his movies are no masterpieces. This one, however, is. This is the first time John Wayne co-starred with my all time favorite actor, James Stewart (they were both in How The West Was Won, but shared no scenes) and so the sentimental value this movie carries for me is pretty large. However, sentiments aside, this is just as quality of movie as you're ever going to watch. Bold performances from it's legendary leads, tight direction and a moving, meditative plot about reconciliation and respect, this movie will stay in my heart forever.
*
*
*
*
*
*
*
86.
The Minority Report (2002)
(PG-13)
Director:
S
teven Spielberg
Starring:
Tom Cruise, Colin Ferrell, Samantha Morton and Max Von Sydow
Nominated for 1 Oscar
Imagine a world where a set of psychic triplets dream every murder before it's about to happen, and we have the ability to find murderers and stop them seconds before they commit the crime. Imagine you're the chief of police in a time where murder hasn't been committed in years. Now imagine the triplets next pre-crime premonition has you as the culprit. This is the world Steven Spielberg's brilliant, futuristic masterpiece takes place. Full of emotion and action, this is one of the most engaging movies I've ever seen.
*
*
*
*
*
*
*
85.
28 Days Later (2003)
(R)
Director:
Danny Boyle
Starring:
Cilian Murphy, Naomi Harris, Brendan Gleeson and Christopher Eccelston

Danny Boyle's fast and furious vision is a fresh take on a movie genre that I cared little about. The manic cinematography, sharp editing and top notch directing set a new standard for zombie horror. Full of scares, but also containing a lot of heart and tender moments, 28 Days Later should be in every film buffs collection.
*
*
*
*
*
*
*
84.
Dog Day Afternoon.
(1975)
(R)
Director:
Sydney Lumet
Starring:
Al Pacino, John Cazale and Chris Sarandon
Winner of one Oscar; Best Original Screenplay.
Funny, heart breaking, suspenseful,
heartfelt. Perfectly acted, directed, written and shot. Dog Day Afternoon is a perfect example of why I love movies.
*
*
*
*
*
*
*
83.
Pans Labyrinth (2006)
(R)
Director:
Guillermo Del Toro
Starring:
Ivana Baquero, Sergi Lopez and Doug Jones
Winner of 3 Oscars

This the quintessential fairy-tale for adults. Guillermo Del Toro's magnum opus was the first foreign language film I eagerly watched and fell in love with. Dark, violent, scary and yet brimming with life and hope, Pans Labyrinth is one of the greatest fantasy movies ever made.
*
*
*
*
*
*
*
82.
Kramer vs Kramer. (1979)
(R)
Director:
Robert Benton
Starring:
Dustin Hoffman, Meryl Streep, Justin Henrey and Jane Alexander
Winner of 7 Oscars; Including: Best Picture, Lead Actor (Hoffman), Supporting Actress (Streep)
Dustin Hoffman makes his third appearance on my top 100 in this heart wrenching family drama. As a workaholic father who is left alone with his son after his wife abandons them, Hoffman captures the anger, sadness and desperation of man on the edge so vividly it is at times hard to watch. Hoffman was dealing with his own divorce at the time of filming, and it shows. The movie is not easy to watch, and that's a compliment. Kramer vs Kramer is a studious observation on the nature and effects of divorce, and is a powerful and important movie.
*
*
*
*
*
*
*
81.
A.I. Artificial Intelligence (2001)
Director:
Steven Spielberg
Starring: Haley Joel Osment, Jude Law, Ben Kingsley and Merysl Streep.
Nominated for 2 Oscars
I know this is probably one of the most divisive movies ever made. People either love it or hate. I, obviously love it. This film was originally supposed to be a Stanley Kubrick' movie before his untimely death; so a good buddy of Stanley took the project on in his honor, Steven Spielberg. There is a lot to love about this movie. Steven Spielberg abandons his trademark sentimentality for a cold, contemplative atmosphere that you could safely assume would have been present had Kubrick got the chance to direct. Haley Joel Osment and Jude Law are amazing here. This movie isn't for everyone, and I will be the first to admit it. But for me, I fell in love with it's futuristic fairy tale setting, it's somber mood and beautiful visuals. A.I. has spoken to me very profoundly, and will continue to do so.
*
*
*
*
*
*
*
There we are with numbers 90-81! What movies have you seen on here? What on here do you love or hate (if any)?