Here we are! Part 1 of 10 of a series on my 100 favorite movies of all time! This has been a lot of time and research but I'm so excited to finally start publishing them.
Here's a couple things to keep in mind.
1. This is a FAVORITES list, not a BEST list. I'm hardly qualified to make a best of list. So there will be movies on the list that are admittedly sloppy, but I love them. As well, there are masterpieces out there that I have seen and just really didn't like. So you wont see Citizen Cain or Raging Bull here.
2. I am 24 years old who has obviously not seen all the movies, and, like everyone else, am inclined to like movies more from my generation. So while there are a few older movies on here, I'm attempting to abandon pretension and go with what resonates with me the most.
So, having said that here are my favorite movies, numbers 100-91!
*
*
*
*
*
*
*
*
*
*
100.
Watchmen
(
2009
)
(R)
Starring
:
Jackie Earle Haley, Patrick Wilson, Malin Ackerman, Jeffery Dean Morgan and Billy Crudup
Director
:
Zac Snyder
This is probably one of the darkest super hero movies ever made, but also one of the most enjoyable movies I've ever seen. While the movie carries the complex themes of morality and responsibility the graphic novel heavily tackled, Zac Snyder breathes onto the screen a crystal clear vision that is a eye popping, and unique cinematic achievement.
*
*
*
*
*
*
99.
The Talented Mr. Ripley
(
1999
)
(R)
Starring
:
Matt Damon, Gwenyth Paltrowl, Jude Law, Cate Blanchett and Philip Seymour Hoffman.
Director
:
Anthony Mingella
Nominated for 5 Oscars; including Best Supporting Actor: Jude Law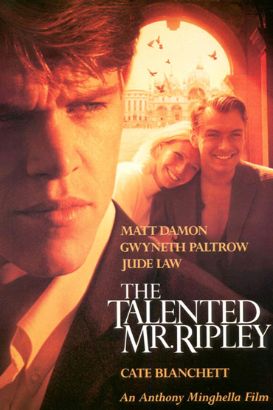 Matt Damon proves why he is one of the best actors of his generation in this brilliant homage to Alfred Hitchcock. Beautiful cinematography, on location filming, twists and turns in every direction and pitch perfect performances all around make this one of the most impressive and watchable psychological thrillers ever made.
*
*
*
*
*
*
98.
The Apostle
(
1997
)
(PG-13)
Starring
:
Robert Duvall, Farah Fawcett and Billy-Bob Thorton
Director
:
Robert Duvall
Nominated for 1 Oscar; Best Lead Actor: Robert Duvall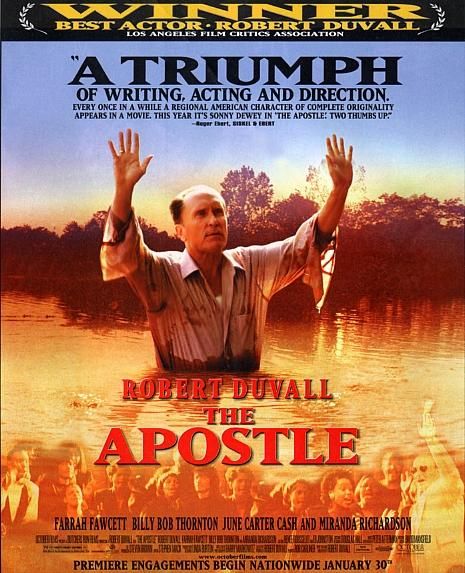 In one of the most honest portrayals of a faithful sinner I've ever seen, Robert Duvall shows off that he is one of the greatest actors of all time. As a disgraced minister looking for a fresh start, Duvall star and directs a beautiful and non judgmental looking at faith, ministry and redemption.
*
*
*
*
*
*
97.
Once Upon A Time in America
(
1984
)
(R)
Starring
:
Robert DeNiro, James Woods and Joe Pesci
Director
:
Sergio Leone
This long and haunting look at gang violence and membership in 1930's and 40's New York was a critical and box office flop at the time of it's release. However, like Hitchcock's Vertigo, time has shown it to be one of the greatest films in the American cinema archive. The strong violence, long run time and slow pacing keep this from being an appealing movie to everyone, but for the patient viewer you will be treated with Ennio Morricones haunting original score, masterful performances by Robert DeNiro and James Woods, Sergio Leones final and greatest work, as well as experiencing one of the most universally praised crime dramas of all time.
*
*
*
*
*
*
96.
The Passion of The Christ
(
2004
)
(R)
Starring
:
James Caviezel, Maia Morgenstern and Monica Belluci.
Director
:
Mel Gibson
Nominated for 3 Oscars.
Yes, this is one of the most controversial films of all time, and with good reason. To someone not fully aware of the significance of Christ' suffering at the hands of man this movie could be nothing more than preachy torture porn; but to the one (faithful and skeptic alike) who who understands how vital this event in history is to the Christian story; you will see an expertly crafted, deeply spiritual and profoundly haunting masterpiece that will stay with you long after the credits roll.
*
*
*
*
*
*
95.
Warrior (2011)
(PG-13)
Starring
:
Tom Hardy, Joel Edgerton and Nick Nolte.
Director
: Gavin O'Conner
Nominated for 1 Oscar; Best Supporting Actor: Nick Nolte.
A little over four years ago my mother past away, making my dad and brother the only immediate family I have left; so you'll understand why Warrior, a dark story of redemption involving two brothers and a father is one of the more important movies I've ever seen. Sentiments aside, this just also happens to be a expertly acted and shot masterpiece, making it one of the greatest sports movies of all time.
*
*
*
*
*
*
94.
Rain Man (1988)
(R)
Starring
:
Dustin Hoffman and Tom Cruise
.
Director
:
Berry Levinson
Winner of 4 Oscars; including best picture, director and lead actor (Hoffman)
I've always been a sucker for road trap movies; I've also always been a sucker for schmaltzy family dramas. Rain Man is what you get when you combine those two things. Dustin Hoffman is a revelation as Raymond Babbit; a autistic man who teaches his hot-shot younger brother what love really is. This movie had me in tears by the end, and is one that I can watch over and over again.
*
*
*
*
*
*
93.
Dear Zachary
(
2008
)
(not rated)
Director
:
Kurt Kuenne
WARNING: This movie is not for those who need a happy ending! In what is easily the most heart wrenching movie I have ever seen, director Kurt Kuenne takes the viewer on a beautiful documentary created for the son of his best friend, Zachary. The catch is his best friend was murdered, and Kurt is making this film as a tribute, and a way to show Zachary just who his father was. No movie has made me cry harder, and every shocking twist and infuriating turn in this spine tingling true story will stay with you forever.
*
*
*
*
*
*
92.
In Bruges
(
2008
)
(R)
Director
:
Martin McDonough
Starring
:
Colin Ferrell, Brendan Gleeson and Ralph Fiennes
Do you like comedies? How about action movies? How about hard hitting dramas that meditate on the nature of regret and redemption? Then this movie is for you. Brendan Gleeson and Colin Ferrell deliver career bests, and Ralph Fiennes, who is one of my favorite actors, nails it in a supporting part as foul mouthed hit man out for blood. The film is crass and hilarious, very violent and beautifully told. You haven't seen a movie quit like this before.
*
*
*
*
*
*
91.
Selma
(
2014
)
(PG-13)
Director
:
Ava DuVernay
Starring
:
David Oyelowo, Carmen Ejogo, Tim Roth, Tom Wilkinso, Common and Oprah Winfrey
Nominated for 2 Oscars; including Best Picture. Winner of Best Original Song.
One of the most important movies of the last twenty years, Selma is a haunting and timely film about MLK's march to Selma Alabama and his journey to secure civil rights. Shot to perfection by it's masterful director, and lead by a legendary performance from it's star, Selma is one of the most important, and perfectly filmed, movies I've ever seen.
*
*
*
*
*
*
And that's it for the first ten movies in my top 100 of all time! Have you seen the movies on this list? What ones do you agree or disagree with? Leave a comment, and let me know!