Here we are! Part 6 of 10 of a series on my 100 favorite movies of all time! This has been a lot of time and research but I'm so excited to finally start publishing them.
Here's a couple things to keep in mind.
1. This is a FAVORITES list, not a BEST list. I'm hardly qualified to make a best of list. So there will be movies on the list that are admittedly sloppy, but I love them. As well, there are masterpieces out there that I have seen and just really didn't like. So you wont see Citizen Cain or Raging Bull here.
2. I am 24 years old who has obviously not seen all the movies, and, like everyone else, am inclined to like movies more from my generation. So while there are a few older movies on here, I'm attempting to abandon pretension and go with what resonates with me the most.
*
*
*
*
*
*
*
*
*
*
50.
The Thing (1982)
(R)
Director:
John Carpenter
Starring:
Kurt Russell, Wilfred Brimley and Keith David
Suspicion and paranoia control the heart of this 80's horror movie classic. Featuring fine performances and expert direction; The Thing is a fantastic showcase of body horror and a exploration on what exactly it takes for man to turn on each other. Though probably not for the faint of heart, for any horror movie fan this alien thriller will satisfy your palate. Plus, this is legendary director John Carpenter's finest hour, don't miss it!
*
*
*
*
*
*
*
*
*
*
49.
Misery (1990)
(R)
Director:
Rob Reiner
Starring:
James Caan and Kathy Bates
Won 1 Oscar; Best Lead Actress: Kathey, Bates
Before 1995 Rob Reiner was one of the most promising directors of his time. He showed that he was the master behind the camera in just about any genre you could imagine. One such example is his foray into horror. Misery is the story of obsession and captivity, and adapted from the Stephen King novel. Kathy Bates delivers one of the most memorable and fantastic performances of all time as the deranged Annie Wilkes. Misery works as an edge of your seat thriller on its own merits, but once you hear the story behind why King wrote it, it becomes a haunting parable. King wrote Wilkes as a parable for his substance dependency. Though he often tried to escape his addictions, they would torment him and keep him captive; all while claiming to love him and meet his needs. Talk about powerful allegory!
*
*
*
*
*
*
*
*
*
*
48. Once (
2007
)
Director:
John Carney
Starring:
Glen Hansard and Marketa Irglova
Won 1 Oscar
If Frank Capra (Director of It's A Wonderful Life and Mr. Smith Goes To Washington) played guitar and wrote songs, they'd look like John Carney pictures. John Carney is the filmmaker this day and age needs. With 3 movies to his credit thus far, he has set the standard for the modern movie musical. Sing Street, Begin Again and Once are all worthy of high recommendation; but Once is the film that started it all. This is a prime example that all the budget in the world can't compensate for sincere, heartfelt story-telling. Haunting and beautiful music, extremely intimate story telling and surprisingly great performances from it's non-actor stars; Once is a sleepy musical about discovering life and not letting pass you by.
*
*
*
*
*
*
*
*
*
*
47.
Toy Story 3 (2010)
Director:
Lee Unkrich
Starring:
Tom Hanks, Tim Allen, Joan Cusack and Michael Keaton
Winner of 2 Oscars; Including Best Animated Movie
Toy Story 3 caught me off guard with how much it spoke to me maybe more than any other movie. I laughed heartily and openly wept as the credit rolled. This movie set a new standard; not only for the franchise, but also for Disney and Pixar. I have never seen a movie tackle a season of transition with more brutal honesty and emotion than this movie right here.
*
*
*
*
*
*
*
*
*
*
46.
Scream (1996)
Director:
Wes Cravem
Starring:
Neve Cambell, Courtney Cox, David Arguette, Matthew Lillard and Drew Barrymore

In Scream Wes Craven sets out to satirize and revive the dying genre he helped create; and he more than succeeds. This movie pioneers the sincere meta horror movie trope we have come to love in such pictures as Cabin in The Woods and You're Next. While filled with plenty of dark humor, Scream also manages to deliver several sincere scares within its all to predictable premise. Scream is a landmark in horror cinema.
*
*
*
*
*
*
*
*
*
*
45. P
erks of Being A Wallflower (2012)
Director:
Stephen Chbosky
Starring:
Logan Lerman, Emma Watson, Ezra Miller, Melanie Lynsky and Paul Rudd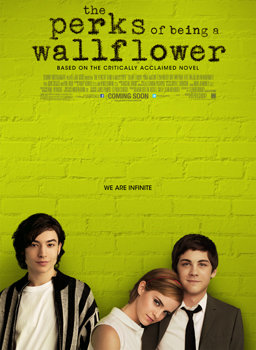 There have been countless, and I mean countless movies that tackle high school youth coming of age and coming to terms with their lot in life. It's amazing more movies don't parody this trope. So you can imagine my overwhelming surprise when in 2012 I saw a movie that not only tackled these themes with more finesse than almost any movie to it prior, but also stood out as an outstanding piece of independent cinema. This criminally underrated movie deserves your time and attention, as well as many repeated viewings.
*
*
*
*
*
*
*
*
*
*
44. Rear Window (1954)
Director:
Alfred Hitchcock
Starring:
James Stewart and Grace Kelley
Nominated for 4 Oscars; including: Best Director: Alfred Hitchcock

Alfred Hitchcock was known as the master of suspense; this is the movie that sealed the deal on that title. Featuring James Stewart playing against type as a grumpy, commitment-phobic guy bound to his apartment facing a horrific circumstance. Filmed with plenty of patience and craft; Hitchcock's craft shine in every frame, as well as the wonderful reminder of what a tremendous talent Jimmy Stewart was.
*
*
*
*
*
*
*
*
*
*
43.
End of Watch (2012)
Director:
David Ayer
Starring:
Jake Gyllynhaal, Michael Pena and Anna Kendrick


In this day and age cops are often painted with a very ugly brush. While there is plenty of evidence to support the decision of Hollywood to villainize cops, the amount of honest, good and sacrificial police officers out there is far greater. Here is a movie that gives honor where honor is due, and pays tribute to the many men and women who serve and protect with integrity. But honorable intentions aren't the reason End of Watch earned this spot on my list. The startling direction, crystal clear vision, the hilarious and heart wrenching script, and the PERFECT performances and chemistry by it's two leads made this movie leave a giant, badge-shaped impression on my heart. Jake and Michael portray one of the most human, honest and raw depictions of friendship in movie history here; and while it really is a tough movie to watch at times, End of Watch deserves multiple viewings.
*
*
*
*
*
*
*
*
*
*
42. Some Like It Hot (1959)
Director:
Billy Wilder
Starring:
Jack Lemmon, Tony Curtis and Marilyn Monroe
Won 1 Oscar.


This authentic Hollywood classic more than holds it's own today. One of the funniest movies I have ever seen, Some Like It Hot is sort of like the anti End of Watch; in that it features the same outstanding chemistry from it's two stars, but is a light hearted comedy rather than a tragic thriller. Comedies don't often age well, I'll be the first to admit, but Some Like It Hot is the rare and legendary treat.
*
*
*
*
*
*
*
*
*
*
41.
Into The Wild (2007)
Director:
Sean Penn
Starring:
Emile Hirsch, Jena Malone, Marcia Gay Harden, William Hurt, Catherine Keener, Vince Vaughn, Zach Galifinakis, Kristin Stewart and Hal Holbrook
Nominated for 2 Oscars; Including Best Supporting Actor: Hal Holbrook

Into The Wild is not for everyone, I've heard it called slow, uneventful and depressing. Valid critiques if the larger themes of the movie don't resonate with you. To me, this is a aesthetic masterpiece. Top notch direction, breath taking cinematography and actors who blend effortlessly into their roles. However, this is also a deeply, dare I say spiritual, journey. A meditation on the nature of possessions and the need for pilgrimage. Perhaps most importantly, it showcases the necessity of loved ones being active participants in our lives, by showing a man who believes freedom is found away from relationships, only to stumble across meaningful encounter after meaningful encounter; and who ends up regretting his decision not to put more value on his people. This is an important and precious movie.